Discover more from Craig's Newsletter
The latest trends in tech, business and the future.
Swipe Right for the Moon
Technology is racing ahead, but people are starting to fall behind
Something strange happened on the way to the moon.
The technology kept getting better. And the people started getting worse.
To see what I mean, let's begin with Buzz Aldrin. This was his background before leaving for the moon in 1969:
2,200 hours flying fighter jets

engineering degree from West Point

doctorate in science from MIT

6 years of rigorous training at NASA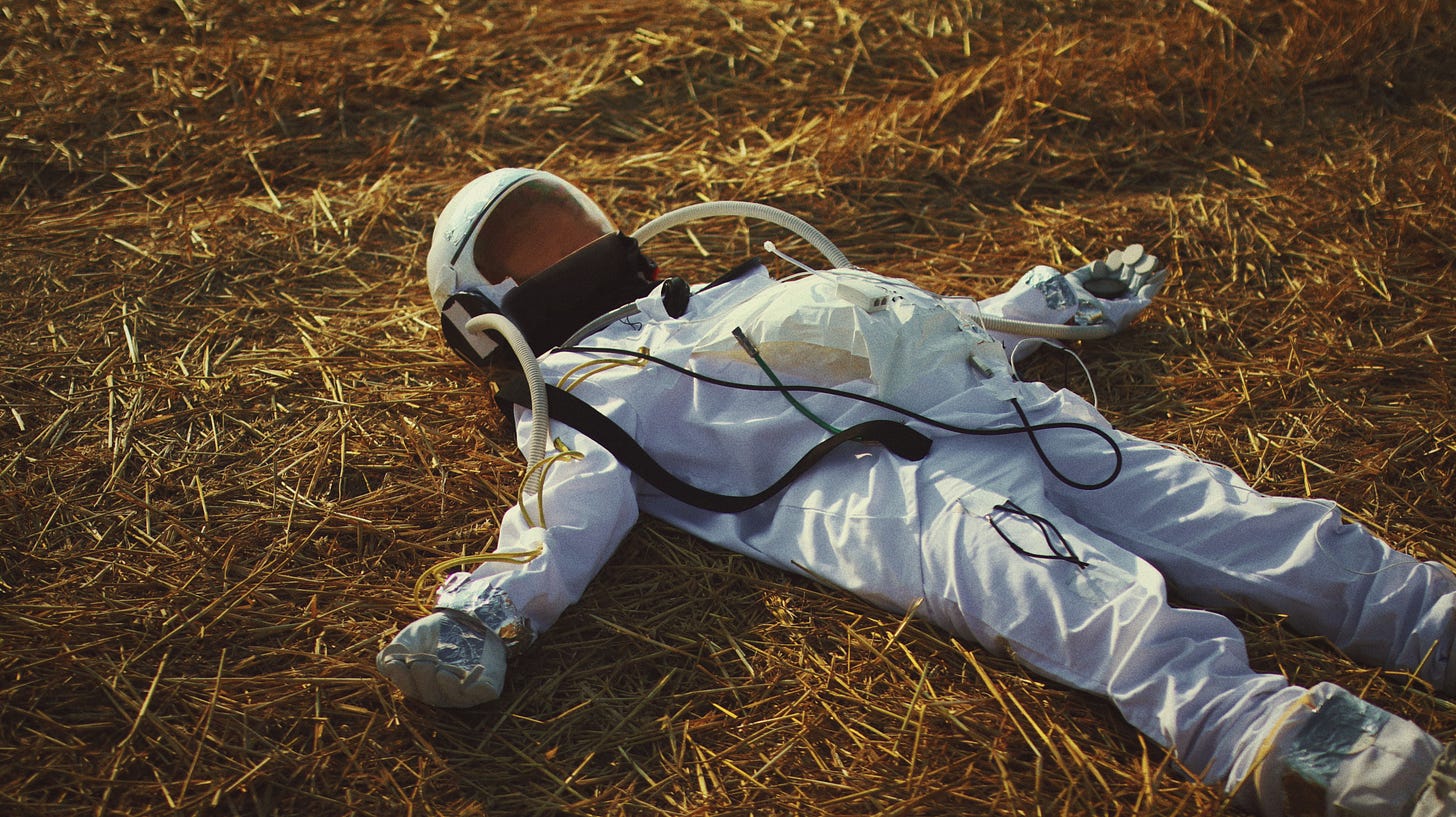 Now let's look at Yusaku Maezawa, who will be the next person visiting the moon in 2023:
graduated from high school

played drums in a punk rock band

made billions selling shoes and handbags online
And then there's this.
Earlier this year, Maezawa decided a trip to the moon could help him find a girlfriend. So he announced a seat was open for someone who was single, over 20 and had a 'bright personality.'
About 28,000 women applied.
But maybe Elon Musk didn't like the idea of SpaceX being used to trawl for dates, because Mawzawa later scrapped the idea.
Whatever happened, this is where we seem to be going today. We started at "one giant leap for mankind" and ended up as an episode of The Bachelor.
Sadly, it was always going to turn out this way.
---
There's no problem with the technology.
Tech is progressing at an ever-faster rate. We probably matched all of the technological progress of the previous century in just the first 14 years of this century. We will match it again in the next 7 years and so on.
The tech is fine. The problem is us.
Because evolution is really slow. We're the same messy animals we were thousands of years ago, and we're having trouble adjusting to a world that's changing by the minute.
---
The US Navy provides a good example.
Naval vessels are incredibly complicated machines bristling with technology that must work in very dangerous environments.
So sex is banned and the punishments are severe. But even the US Navy is no match for basic human biology.
During one of the first deployments of a mixed-sex crew to a combat zone, 36 crewmembers ended up pregnant and had to be flown home. Overall, about 2/3 of female sailors get pregnant during their service, and of that number 2/3 of the pregnancies are unplanned.
So here's something to consider. An average naval deployment is about 6 months — which is almost exactly the same time it takes to get to Mars. You know where this is heading.
---
That is, if they actually make it to Mars. A few years ago, on an overnight ferry down the coast of British Columbia, the bridge was manned by two people who were alone together for the first time since ending an affair. The ferry hit some rocks and sank.
The ferry had just been upgraded with the latest navigation tech. But anger, jealousy, lust and all the other impulses that fog the human brain always get in the way.
The tech keeps changing. And we stay the same.
Actually, we might even be getting worse.
---
In 2017, about 1,000 American kids were asked what they want to be when they grow up. The answers were doctor, vet, engineer, police officer and teacher, in that order.
A more recent survey asked the same question. The top answer, chosen by one-third of the kids, was YouTuber.
With apologies to Matt Damon, most of us don't care how many potatoes we should eat on Mars. Or if there are alien octopi under the ice of Europa and signs of life in the atmosphere of Venus.
No, not interested. But hey, that new upload by PewDiePie is fire.
It's not just the kids. The adults aren't any different.
---
Look at the political scene today. People are ready to go to war for their candidate, but they have almost zero awareness about the issues. Take perhaps the biggest issue in the US election today. Covid-19.
A recent survey discovered that the average person thinks Covid-19 has killed off almost 10% of America's population — that's about 30 million people.
We could Google for the correct information in just a couple seconds. But we don't because we would rather scream about it on Twitter.
So maybe we're not smarter than people from thousands of years ago.
Or worse, there's a good chance we're less smart.
Because tech is creating a comfort zone that let's us abandon the hard work of thinking and instead embrace all the easy instinctive stuff like emoting.
---
There are two paths ahead.
One is the movie WALL-E. The machine takes the wheel and humanity becomes a passenger. We hand the baton of progress to robots and AI, while we spend our time eating, having sex and loving pleasure.
Much like Yusaku Maezawa when he circles the moon. He will have a pilot on board, but it's not necessary. It could be fully automated just as SpaceX's recent trip to the ISS space station was, with the vessel docking without human help.
Maybe it's even better like this, with the machines doing all the driving and people kicking back to enjoy the ride.
Because now people are starting to get in the way.
In the early days of flight a hundred years ago, about 80% of crashes were due to mechanical problems while 20% were the fault of the pilot. Today that has reversed with over 80% of accidents attributed to human error.
If the machines do it better, and people just end up causing problems, then maybe a life creating memes on YouTube and yelling at Twitter is the way to go.
Being a passenger doesn't sound too bad.
---
But there's a second option.
Technology is a tool we hold, swing or tap. It's a separate entity from the hand that wields it.
A hammer fits the hand and together they drive the nail. A person at the wheel of a car, with one to steer and one to push. Man and machine working together but apart.
But maybe it's time we bring some of this technology on board, and actually become the machines that are starting to leave us behind.
---
Sometimes I wonder if Elon Musk thought about this from day 1.
Since the very beginning when he was shopping around for missiles in Russia (and getting spat on by disgusted engineers), Elon has always said his ultimate goal is getting to Mars. To get humanity into space.
So it makes sense that he started the rocket company SpaceX.
But what if all his other companies, while apparently going in different directions, are actually all part of this big push toward a future in space.
SpaceX builds the rockets to get there.
Tesla develops the automation for once we're there.
Solar City creates the technology that powers the automation.
---
Everything's looking good.
But maybe Elon is thinking about all those pregnant sailors in the Navy, and rolling his eyes at Yusaku using his moon trip to find a girlfriend.
All of the tech is on track. But what about the cargo? The people who need to go. Here, things aren't looking too good.
So Elon founds Neuralink. The final piece of the puzzle. They key to propelling humanity into the machine age, and stopping us from slipping back into primitivism.
Neuralink is a tiny implant for the brain. It would boost our biological senses like hearing and sight while interfacing directly with computers, vastly expanding the information we have at our fingertips.
It could also change our emotions.
This is being floated for the best possible reasons. To alleviate suffering, ease stress and generally reduce pain and increase well-being.
But these might be just the first steps on a path to much more. Neruralink could change what it means to be human.
Less emotion, more logic.
Less human, more machine.
After all, if sex is a problem in the Navy it's going to be a bigger problem in space. And there's definitely no room in a small Mars colony for anger, envy and all the other destructive emotions that cause so much havoc here on Earth.
---
So maybe we're going to need Neuralink for space. And maybe not just for space, but down here on Earth as well.
Because we can't keep up. The tech is leaving us behind.
And the choice is fast approaching when we must decide if we are going to merge with machines and participate in the future.
Or we're going to just be passengers in that future.
Either way, a change is coming.
I think Elon has decided.
Have you?